I've started work on my LST racer shell, I have never painted a shell before, so I am a bit nervous, and hope not to mess it up
Basically I have never painted a shell before, so i was trying to keep this one simple, but still stylish and different .. one of my criteria was "no flames" .. I see to many cars with flames these days.
This is the sketch I made for the paint scheme, it calls for
– Rally Blue
– Glow Red
– Glow Orange
– White
– Chrome
I started by masking all the lines, I used Tamiya Masking tape from Rapid-RC, this stuff is great, I also used standard masking tape from B&Q (UK's Home Depot) for the bulk areas, I also then masked the front which will be orange and the roll bars at the back & front bumper which will be Chrome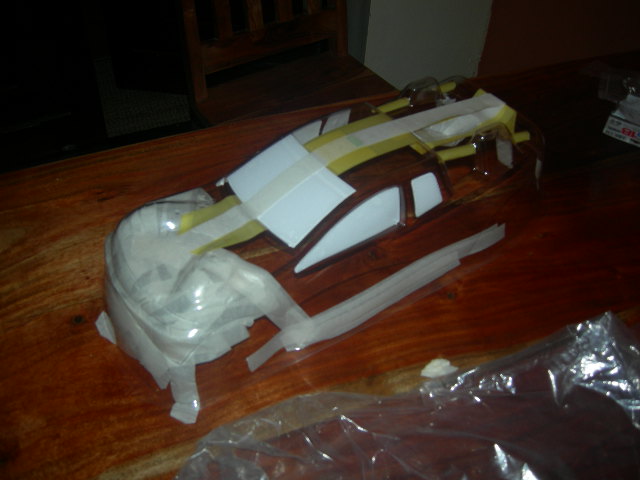 And then I proceeded to paint the first colour (Blue) .. i gave it a few thin coats and used the air gun to speed up drying … tomorrow I'll give it one last coat of blue, one of my big problems is, since I never painted a shell before, I am not sure how many coats do I really need, anyway, tomorrow I'll also move to the red strip.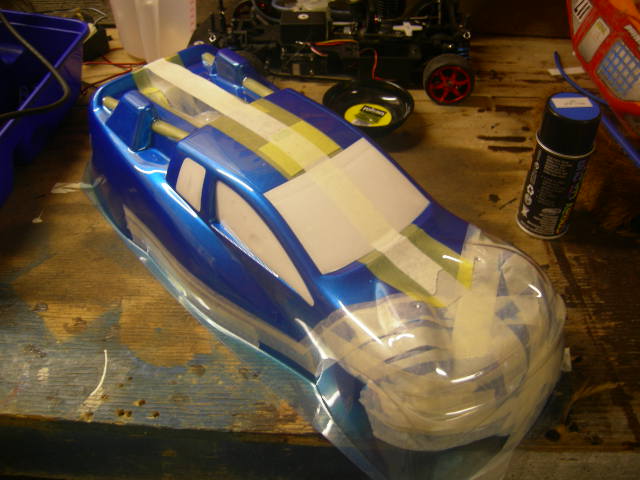 The blue looks amazing, the pictures makes it no justice, I am still undecided if I am going to back it all up with white or chrome.
More pictures to come as I paint this project 🙂