Just last week, i was commenting to my wife at how happy I was with my LST2, and how finally it was running perfectly .. and since I do not like aluminum parts, there was nothing else I wanted to add to it .. so as far as the LST2 was concerned … I was done ..
Right …
I did not like aluminum parts, mainly because my recent experience with a Integy aluminum roll bar, which bent the first time the truck flipped over .. but I was never told about Titanium !!
So a few days back I was browsing the "for sale" forums at Maxbashing, when I see for sale Titanium parts for the LST2 .. now I know titanium is strong as hell, and light as an alloy can be, so I threw the "I am done" comment to the wind and started buying ..
One thing led to another and by the time I was done, I had almost as many new parts enough to build another truck
Here is a picture of most of the parts that I got, most of them "pre-loved" at an amazing discount.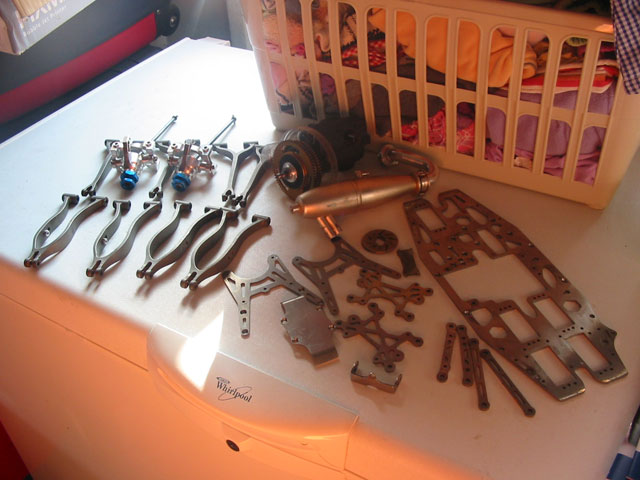 In a nutshell:
– Flextech titanium arms set
– HCR Titanium chassis
– HCR Titanium F/R Upper Tower Brace x2
– HCR Titanium F/R Bulkhead Brace x2
– HCR Titanium Upper Hingepin Brace x2
– HCR Titanium Lower Hingepin Brace x2
– HCR Titanium Battery Skid
– New Era silver steering knuckles
– New Era silver C hubs
– RD Logics twin stinger exhaust & manifold
– Dynamite engine brace (not pictured)
– Losi hard anodized engine (not pictured)
– TiNI spur gears
– Crazy nut racing brake discs
– Gearbox with Forward only conversion
– Losi hard anodized front, centre and rear skid plates (not pictured)
– Bad Ass creations V2 Steering link (not pictured)
So, with only 3 days left before the next racing day, i got to work ..
I dismantled the LST2 .. and what a mess I was left with, I never split apart the LST2 like this, so I am hoping I remember how to put it all together 😀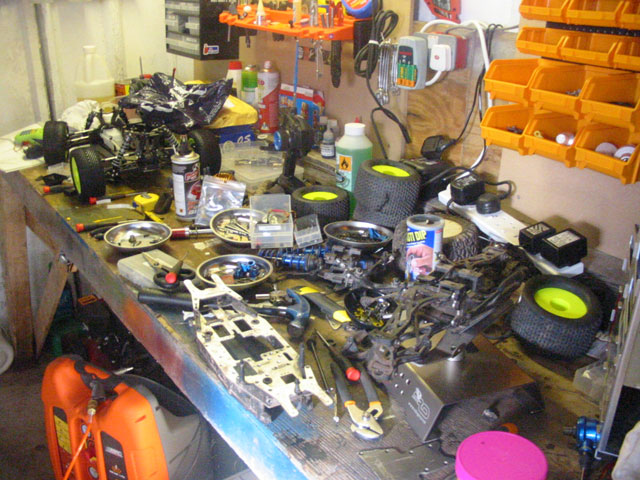 Believe it or not, in that picture there is a LST2 and a 8T on the bench … somewhere
I started with the main Ti chassis plate, and before I knew it, I was on my way to a good start, I must say, Losi did a great job on this truck, by making the front and the back virtually identical, and using the 2 tier plate system, it's just so easy to work on it.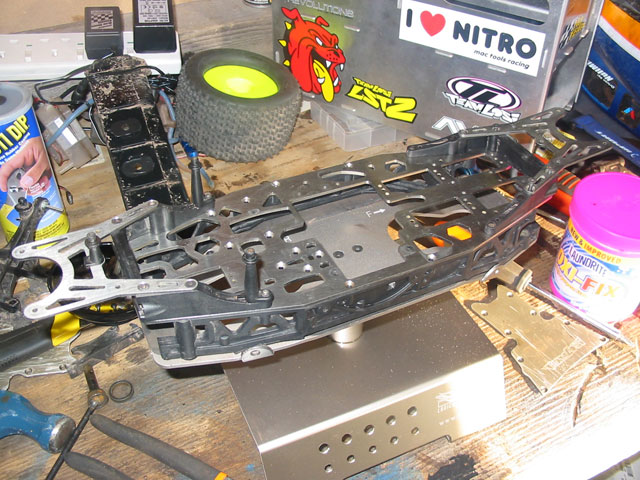 All titanium at this point, I was amazed at how light this material is, next is a picture of the underside, with the Dynamite engine brace and the Ti battery cover.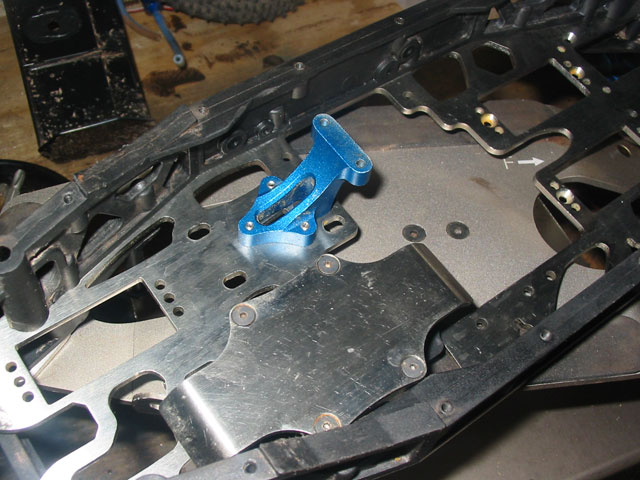 Before long, I had most of the back setup, I put the Flextec Ti arms on, and man, do they look great, once again, amazingly light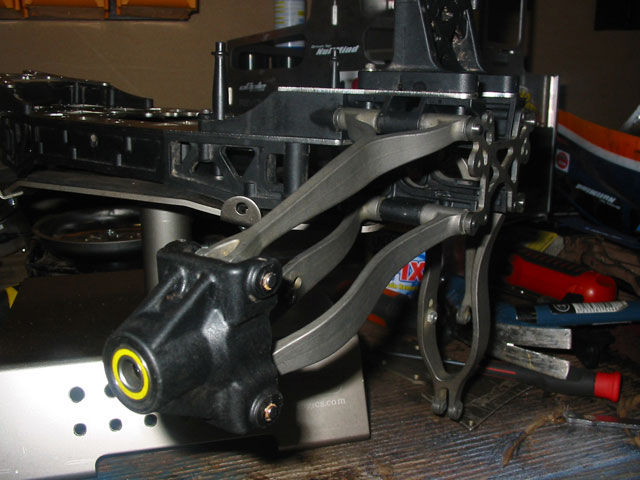 Since the Flextec arms are designed for the LST C hubs, I had to do some major shimming, I was going to order the RPM adaptors to use the RPM arms with the LST2, but the shims seems to do just as good of a job.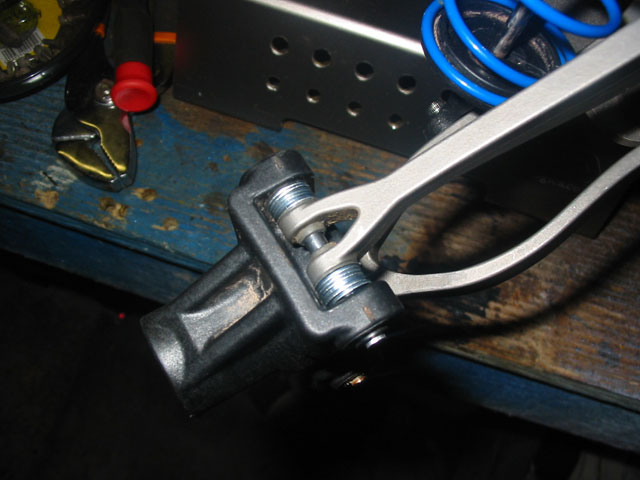 It is shim galore 😉 .. I had to use 12 shims per arm, 6 on each side.
So once that was done, I also setup the new wing mount that I got to replace the one I broken :p … and so far, this is how it looks

Tomorrow I'll move to setup the front arms and perhaps i'll have time to setup the transmission as well ..
Looking good so far …
Technorati Tags: Integy, Losi, LST2, RC, SpeedwayRC, Team Losi