We have just returned from our Paris/Erurodisney Holiday.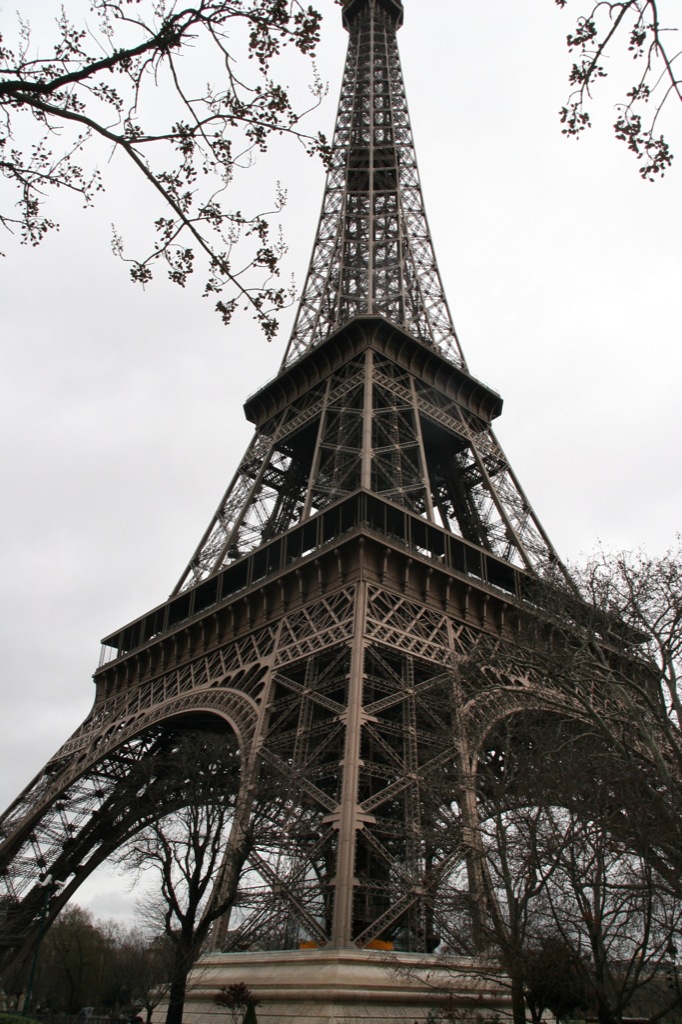 Technorati Tags: Louvre, Paris, EuroDisney, Vacation


We took off from Manchester on my Multipla and headed to Dover, there we took the ferry and were in French territory before we knew it, the ferry portiion of the trip was pleasant, even so the wetaher was not the greatest.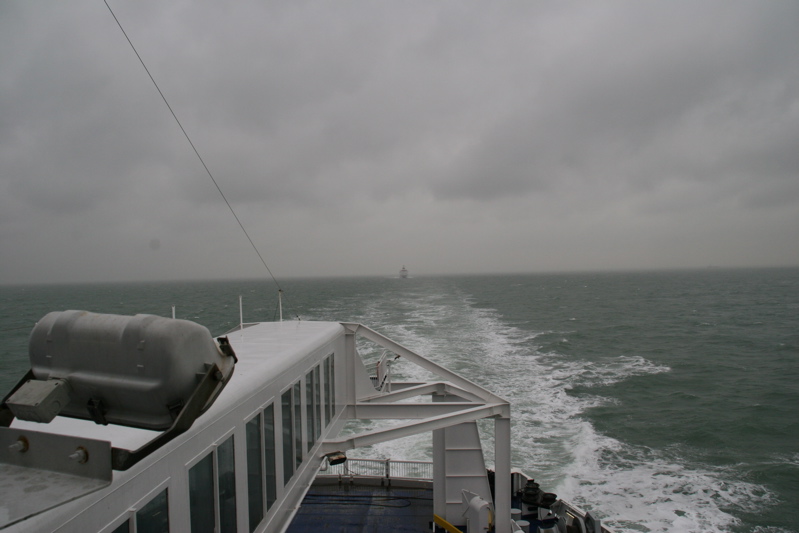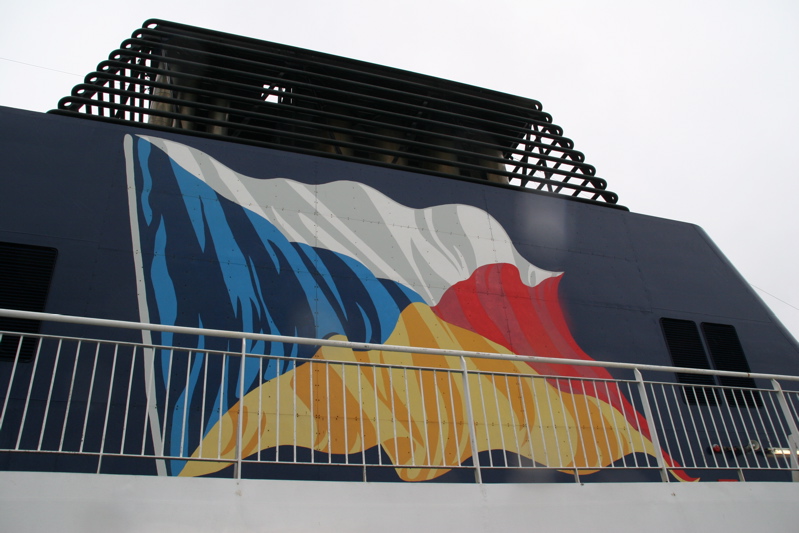 The trip inside France was also very pleasant, I was a bit worried that driving in the right lave with a left hand car was going to be a problem, but it was a breeze .. even the wife drove for a few hours on France .. she was comfortable with it (well .. to be fair, she drove on the Highway) 😉
My oldest daughter (who lives with her mother in the USA) flew over with my mother in law to go on holiday to Eurodisney, we haven't seen each other in 2 years, so it was a great opportunity to bond .. so I thought.
We stayed at the "Davy Croquet Ranch" .. it's one of the Disney resorts, instead of hotel rooms, you get a log cabin, 2 bedrooms and a pull out couch, 6 people sleep on it with plenty of room to spare.
Unfortunately the weather didn't cooperate much, and some of the days it rained .. regardless we went to the Disney Parks 3 of the days.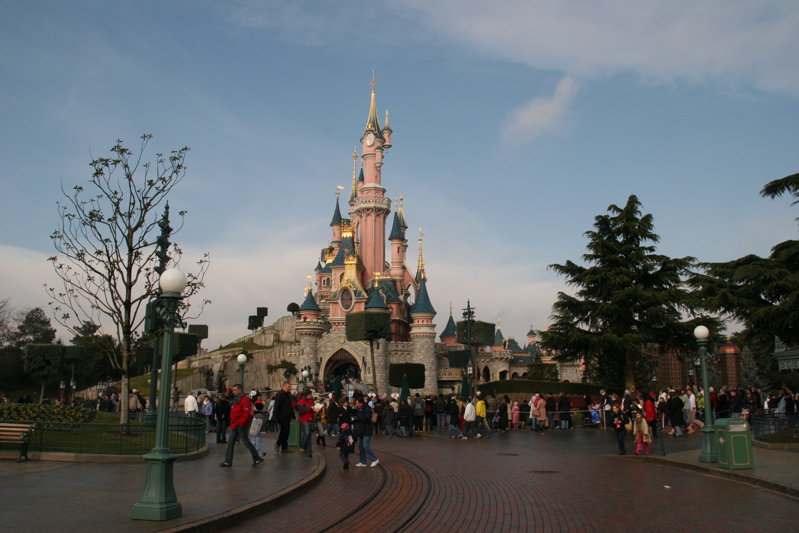 Picture of the ONE day the weather was good
One day I took Samantha (my oldest daughter by herself, trying to get some daddy-daughter time, it was ok, unfortunately Samantha inhered allot of the qualities that made my ex-wife an EX .. besides that, he was just not too trilled about her 2 other sisters .. and the way she treated them was not to my liking,.
One of the other mornings I took Savannah to the park by herself .. now she had a blast, the major difference between the two is Savannah is very appreciative of you, she genuinely lets you know she is thankful for the moment, Samantha on the other hand is never happy, nothing is ever good enough (ex, ex, ex)
We also went to downtown Paris for one of the days, there I venture into one of the most dangerous activities known to men in France .. drive around the Arch of Triumph Round-abound … I was never so scared and so full of adrenaline while driving a car .. ever, this roundabund at the end of champs d'elisee is insane, it's about 4 lines wide, and has no traffic lights, those joining the round-abound have right of passage .. it's organized chaos .. and it works.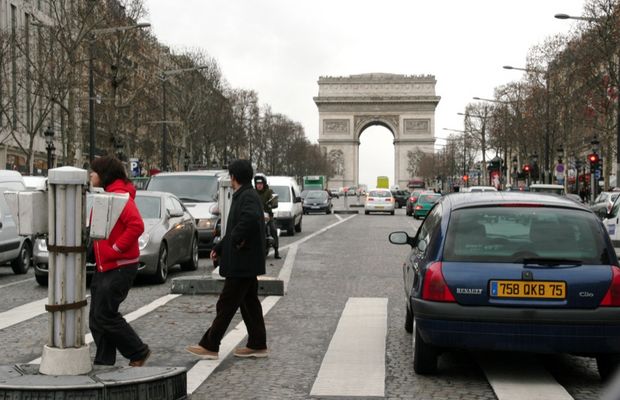 We then went on to check the Eiffel tower … I was amazed how big it is, Sally (the wife) thought it was suppose to be bigger .. woman, never big enough for them.
I was quite please to cratch one more off the "to-do-before-I-die" list .. (To see the Eifel Tower) .. but the kids started to act up, so we had to leave without going up into the tower herself, we only got to see it from the ground.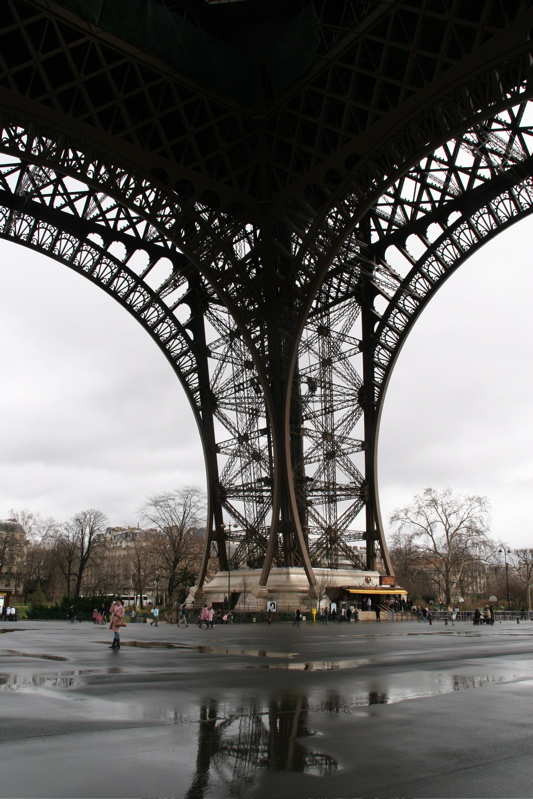 While on downtown, we had a funny episode, my mother in law went to use one of the public toilets the France have in Paris, they look like portable toilets you find at a construction site (but nicer), when she went in, Savannah followed her, well, the doors of the toilet are driven by this pneumatic system, as my mother law was on the loo, Savannah pushed the open level and the doors open, there it was, my mother in law, butt naked for all of Paris to see .. the expression "red as a tomato" doesn't even apply .. and because it's Pneumatic doors, he could not close it .. I rushed in and eventually got it closed .. the wife was didn't everything she could not to fall to the floor laughing.
On our last day, which became my favorite day of the trip, me and sally hired a nanny and took off to Paris just by ourselves, we went straight to the Louvre, bought two tickets, made a B-Line to the Mona Lisa, and got out.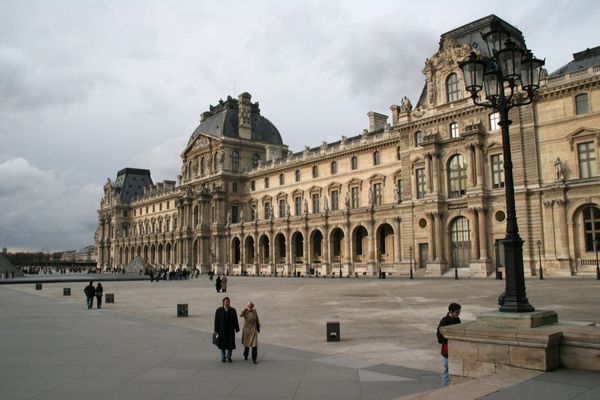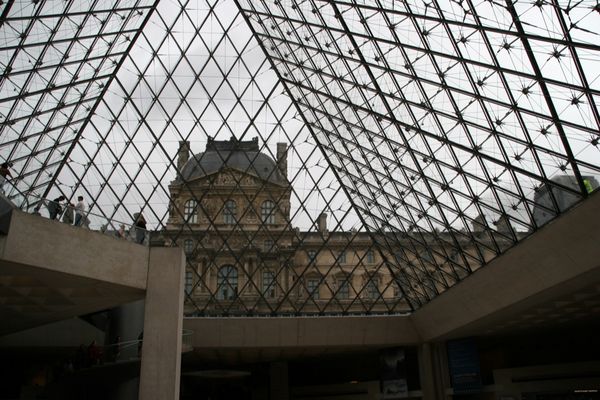 It's not allowed to take photos of the paintings, but while the guard was yelling at a japanese tourist for taking a picture (with flash) I was sneaking one myself (minus flash) .. Sally once again, thought the Mona Lisa painting was smaller than expected .. allot of people say that trough.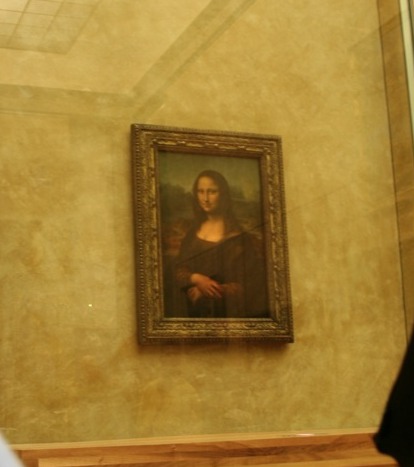 We then escaped to the little streets behind the Louvre .. for some shopping .. we bought a second oil painting, this one depicting the Moulin Rouge, to hang on our new house ..
The trip itself was a bit of a disappointment Samantha was a brat, the weather was shit, and Eurodisney .. well, once you seen Orlando, you seen it all .. plus at the Ranch we stay on, only American style food was served … I spend a week in one of the best culinary countries in the world eating burgers and BBQ :p
On the ferry back, my youngest daughter fell (it was really rough seas) and open a huge gash under her chin, so as soon as we got home, I had to take her to the hospital to get stitches, the wife also got sick with some stomach bug .. so she went on the same trip tot he hospital.
All and all, I loved Paris .. I didn't care for Eurodisney, and the next time we go (2007) the kids are staying home.