One of the guys at work was asking me about the old cPanel skins I had done, and if I had still any screenshots of it, I checked my blog but no reference to them was ever written, so I decided it was time to write and save these images, so I can look back on them when I am an old man and reminisce.
cPanel is today of course one of the leading Control Panels in the Web Hosting industry, it's market share is equal or above that of Plesk, and the two basically own the overall CP market for mainstream hosting,
But when I first set my eyes on cPanel back in 99, it was a VDI.NET product (a datacenter in Clifton, NJ, specializing in hosting other hosts), cPnel looked nothing like the polished product it is today, instead it was more of a compilation of Perl scripts with an attempt of a GUI front-end, not that there was anything wrong with it, for the time it was already one of the most powerful CPs of it's time, but with sysadmin work being moved from the confides of the shell into the "anybody-can-do-it" world of the browser, the front-end did not made justice to the back-end scripts, it was, at a lack of a better word "butt-ugly" and unintuitive.
At the time I was a webhost reseller utilizing the "Alabanza" platform, (talk about a missed opportunity there, Alabanza could have owned the hosting market today, but they became fat cats and decided to stop innovating and instead concentrated on skinning their existing clients of as much money as they could, they figured nothing better would ever come … man where they wrong), unhappy about the "surprise" charges and the fact your $400/mo server became a $800/mo server on the second year of ownership (yeah, brilliant idea Alabanza), i became looking for a solution elsewhere.
And I found it on VDI, problem was, their CP was just so awfully looking (yeah, cPanel), fortunately the programmer (Nick Koston) was a smart kid, and he had done the CP rely on internal "API-Like" calls to deploy the tools and content, leaving the framework of where that info is displayed, basically free to be messed about with .. and so the world of "skins" on cPanel was born.
I unfortunately dont have a screenshot of cpanel 2.0, but the very early on (1.0 ? 0.x ?) looked something like this: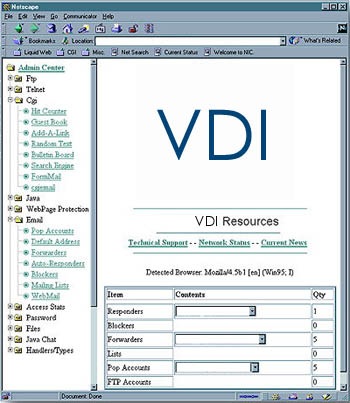 Yeah, we have come a loooooong way haven't we ?
So, Photoshop in one hand and a real basic understanding of HTML on the other, I set to create a new design from scratch, the idea was not just to beautify it, but also make it easier to use, mind this is before the likes of readily available cheap stock art or google image search, this was hard labor and 56Kb modem in mind.
So I did two versions, one called "default" and one called "iconic"
The reason for the two versions was simply, 56Kb modems where still a luxury, Cable modem trials has just begun and still a large amount of people browsed the web on 33.6Kb .. the "Iconic" theme, while great with it's display of all the options on the frontpage, was heavy, I was afraid people would simply not have the patience for it, the default skin in the other hand was quicker, as it needed you to go to the sub-sections to load the other elements.
Ironically enough, the "Iconic" design became the standard, as speeds increased people loved the easy access to their tools, and most CP's from there on all adopted a similar design.
Looking at it today one might call it "ugly" & "heavy" and for sure does not stack to some of today's creative designs, but for the time, this was pure sweetness, people loved it and it just made managing your hosting account that much easier and pleasant.
Of course, the real work was done by Nick K, he is the one that created the CP, I simply polished it and made it easy to use 🙂
Below are some more shots of the default theme (they marked as cPanel 4, but this started on 3 and went all the way to 7 or 8 I believe), and yes I created every single one of those icons, some by Photoshop, others on Lightwave 3D (notice my 3D Penguin ?).
What was the point ?
This of course was my introduction to Control Panels, in the years to come I had the pleasure and privilege to partner with Igor Seletsky and amongst other, develop the incredible H-SPhere Control Panel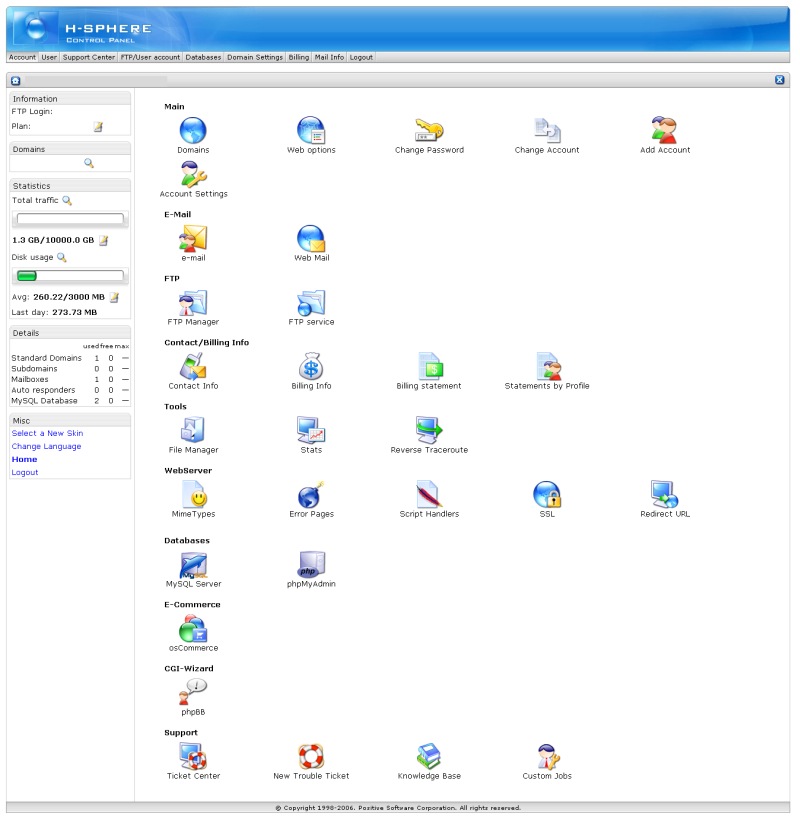 Much better looking this time !!
And more recently, Tera-CP, a CP built on extJS with a Adobe Air client, made internally by our team at the UK2 Group, currently in use on 10TB.COM but soon to be used on more of the other brands in the group.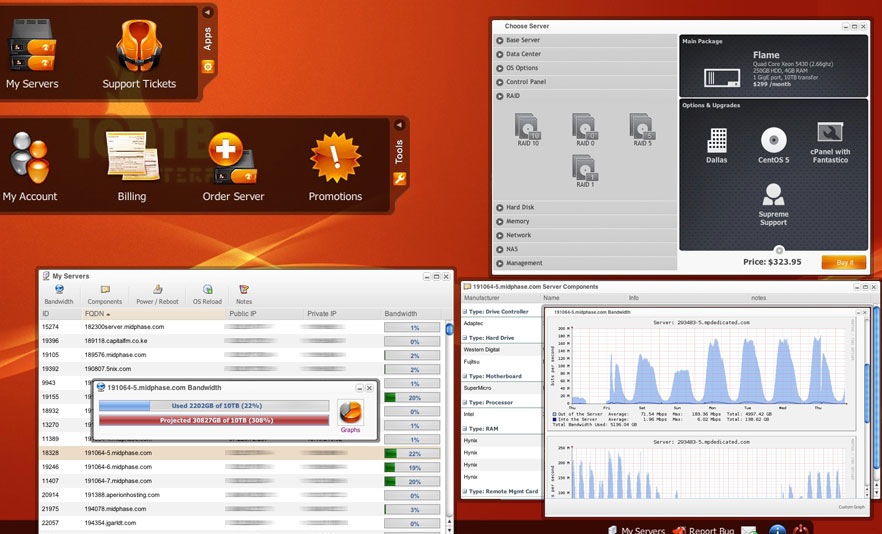 The culmination of 10 years of work, sheer perfection !, click HERE for a video 🙂