I think this is about the same as "Shepherd's Pie" in the US, we call it "Empadao" in Portugal.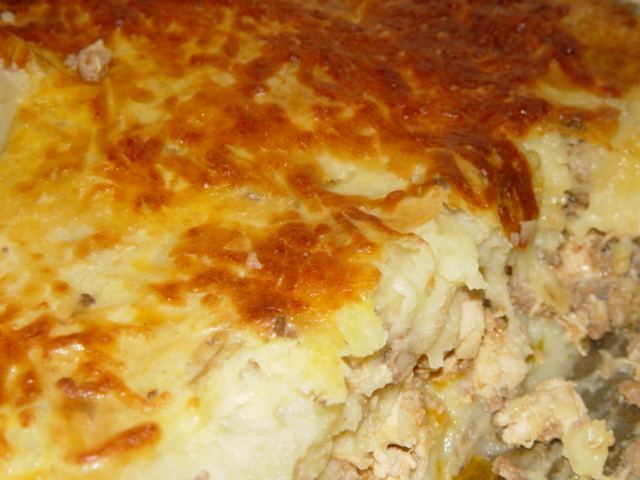 Technorati Tags: cooking
• 1 lb of leftover beef or chicken (or 1/2 of each)
• Olives
• 3 lbs Potatoes (+/-)
• 1 egg yoke
• 1/2 cup milk
• Shredded cheese (your favorite, we use Mozarella)
• Butter
Boil the potatoes until they are cooked, then mash them into a pulp .. while doing that add some salt, 1/2 cup of milk and a lots of butter.
Cut the beef or chicken into small shredded pieces, if either are uncooked, just cook them to to your taste, nothing fancy here, if you have both chicken and beef leftovers, mix them both, it's quite nice that way.
Take a small/medium oven pan and lay a 1″ layer of the mashed potatoes in it, then lay a layer with the previously cooked beef or chicken, on top of the meat layer, sprinkle some of the shredded cheese and the olives (use as many olives as your taste buds require).
Then lay the rest of the mashed potatoes on top of that, make sure the top of the potatoes is nice and smooth, and then on that take the egg yoke and spread it on top of it, finish it with some shredded cheese to taste.
Bake it on the oven (150 degree C) until the cheese has melted and the top is nice and orange brown (aprox. 20 minutes)
Don't overcook, otherwise the cheese on top will burn and taste like cardboard.